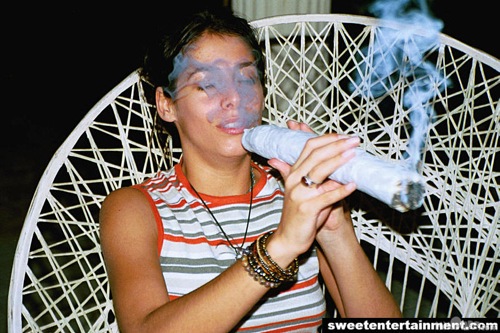 Marijuana – dried and crushed the upper part of the plant with leaves and flowers, the contents of which has the most highly active compounds. The content of psychoactive substance in marijuana goes up to 13-15% (previously, these values were significantly lower 0,5-11%).
Cannabis – resin, cannabis is produced in a certain period of vegetation, green, dark brown or black. Content of the main psychoactive substance (THC), typically around 2% but can reach 9-10%.
Hashish oil – concentrated dark liquid and viscous in consistency extract of plant material or cannabis resin containing substance (THC) from 10 to 30-60%.
Biological activity of these funds during storage in ethanol or sesame oil is stored for a long time, but when stored in the light or in access of oxygen decreases with time due to degradation of the main active ingredient.
DIRECTIONS FOR USE
smoking (inhaling smoke) – for smoking cigarettes with marijuana use (500-750 mg for the content of the active component of the THC 1-4%) or conventional tobacco cigarettes with the addition of n shisha or a small amount of hashish oil. Sometimes smokers use special glass tubes-pipes,bongs. Lo added weight hashish in conventional tobacco cigarettes and marijuana cigarettes, or smoke from using small glass tubes. Also extended inhalation of oil vapors, heat the ICDO in flames on an aluminum foil or on a knife edge.
o oral intake (chewing, in the form of welding or as a food supplement).
o intravenous administration – is rarely used.